I had some good news today, so rather than dump a bunch of heavy political news in your lap, I thought we'd have some fun.

Answers I Wish I Thought Of

I didn't find this on my own (someone Dugg it). It's a list of answers people put on tests at school.

For Instance:




But it gets better. There are two essays by some guy named Peter Nguyen. I'm not going to put the whole thing here, but to give you an idea of their content, here is a selection from his essay on Walt Whitman:




Everything can be found here.

If Chuck Norris Was President (by Chuck Norris)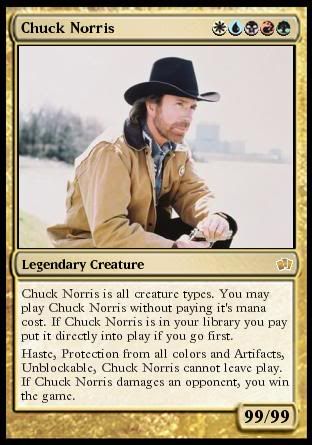 Apparently this list was actually written by Norris himself, who as you may or may not have known is a Christian Conservative with an odd sense of humor.

It includes the following pledges:

-Cut spending by dismissing the Secret Service, at least for my eight years in office (why would I need them?).

-Send an autographed photo of me and my horse (no dogs in my White House) to everyone who commits to read my new WorldNetDaily "presidential column" and blast a blog who dares to disagree with me.

-Personally smoke out bin Laden by myself and round-house kick him all the way back to America, where my United Fighting Arts Federation will handle the justice issues.


Okay, One More Thing


Seems that the Senate will be holding a No Confidence vote on Alberto Gonzales on Monday, and Arlen Spectre (the top GOP guy on the Senate Judiciary Committee) has stated that he is voting for it. More good news! Yay Monday!