As you may or may no have been aware, Dick Cheney this week declared that the Vice-President's office is not a part of the Executive Branch. You know, the branch of government comprised of the President and his staff...and one would assume his assistant, the...er...Vice-President.

I'd like to buy Rahm Emanuel (D-IL) a beer. He's introducing an amendment to the the Financial Services and General Government Appropriations bill to deny funding for Cheney's office.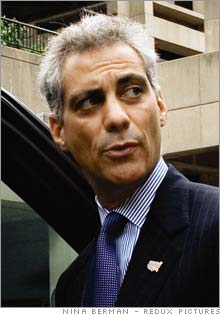 Emanuel pointed out that if Cheney is not a part of the Executive Branch, he shouldn't be funded as such. He even made a graphic that he shared with the press:




In my former career as a waiter, I've waited on Emanuel twice without knowing who he was (nice guy who tipped 20%, if it matters to you). If I ever meet him again, I'm going to buy him a beer.