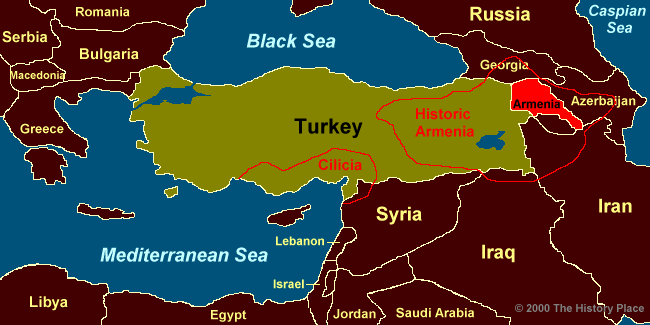 What constitutes genocide? Would you consider the mass deportation and murder of 1.5 million people of a specific ethnic group by the government genocide? How could you not?

The House Foreign Affairs Committee approved a measure that will be sent to the full House on Friday condemning the action that occurred decades ago. It's not a binding measure, it's a symbolic one that finally allows the US to formally acknowledge the atrocities that took place as 'genocide.'

So what's the problem? Well, for one, Turkey is pissed.


"Yesterday some in Congress wanted to play hardball," said Egemen Bagis, foreign policy adviser to Turkish Prime Minister Recep Tayyip Erdogan. "I can assure you Turkey knows how to play hardball."

He said the response to the U.S. might not be the same, but warned if the full House passes it, "We will do something and I can promise you it won't be pleasant."
The administration is pissed, too. You see, Turkey is where we send supplies into Iraq from. If Turkey doesn't want us there, it makes it harder to supply the troops (bad for the troops) and to wage war in Iraq (bad for the Iraqis, the residents of the Middle East, and pretty much everyone else, too). France formally declared the events genocide last year, and haven't flown any planes in Turkish airspace since.
Some thoughts:
We do business with Germany on a regular basis. They are an ally of the US, and a country that is friendly to our citizens. We fought them in two major wars, and they murdered nearly 12 million people (I'm including the Poles, the Gypsies, the homosexuals, etc in that count in addition to the Jews). But here we are, friends and allies. Why?
Because Germany said that they fucked up in a major way. Not all wounds can be healed, but Germany has tried very hard to acknowledge the atrocities of the past and make amends. They'll never be fully forgiven for that (not for a long, long time at least), but it is a starting place.
Turkey refuses to do that. They claim that the deaths were only around 150,000 people, and that Turks died as well, so that's okay.
I'm proud of the House for forcing through a measure so unpopular with the administration, because it is the right thing to do. We're not asking Turkey for anything. We are just deciding to acknowledge something horrible that happened.
By the way, what is Armenia's take on this? No one seems to be asking them.
Edit: They are thrilled that people are finally noticing after all this time